Having completed its stint at Glasgow, the Animal Mummies Revealed exhibition opened on 14 October 2016 at the World Museum in Liverpool. I visited the exhibition when it was on at the Manchester Museum last year, and was really looking forward to following it up again at the World Museum and seeing how it looked in a different exhibition space.
(Unfortunately, I was unable to make it up to Glasgow to see the exhibition there, so I'm not able to include it in the comparison.)
Curator Ashley Cooke very kindly arranged for me to come in for a couple of hours while the exhibition was being set up to get a few behind-the-scenes photos to share with you all. It really was just a snapshot of a small part of a process that had taken several weeks to complete, but what I saw was just fascinating.
In this post I've included photos of the setting up of the exhibition, as well as some of my girls enjoying the interactive parts of the exhibition both new and old, to give you an idea of how it differs from its time in Manchester. Oh, and I've finished off with a few gratuitous photos of objects in the exhibition, because … why not.
Behind the scenes at Animal Mummies Revealed
Having never been involved in setting up a museum exhibition, it was great fun to be able to have a nose around. The gallery was still packed with ladders, trolleys, crates, tools and paint. Most of the display cases were still empty at that point, too.
There were several conservators unpacking artefacts, inspecting them and then setting them up in the display cases. They were working at large tables with panel lights. With the low lighting in the rest of the gallery, it was really quite atmospheric in there.
The job of conservators at this point was to check all the objects for any damage that might've occurred during transport. When items are shipped to an exhibition, they're inspected and photographed before being packed up and moved. Then, when they're unpacked again, the conservator checks the artefact against the photos for any changes. It's a bit like when you hire a car, and you check around the car for any bumps and scratches before leaving so you won't be held liable when the car's returned.
While I was there, the enormous 19th century oil painting, The Gods and Their Makers, by Edwin Longsden Long, was brought in. Before it was mounted on the wall, it was inspected, inch by inch, by David Crombie, a conservator specialising in paintings.
Here's a few photos from my morning at the gallery.
Still so much to do, with only a couple of weeks before opening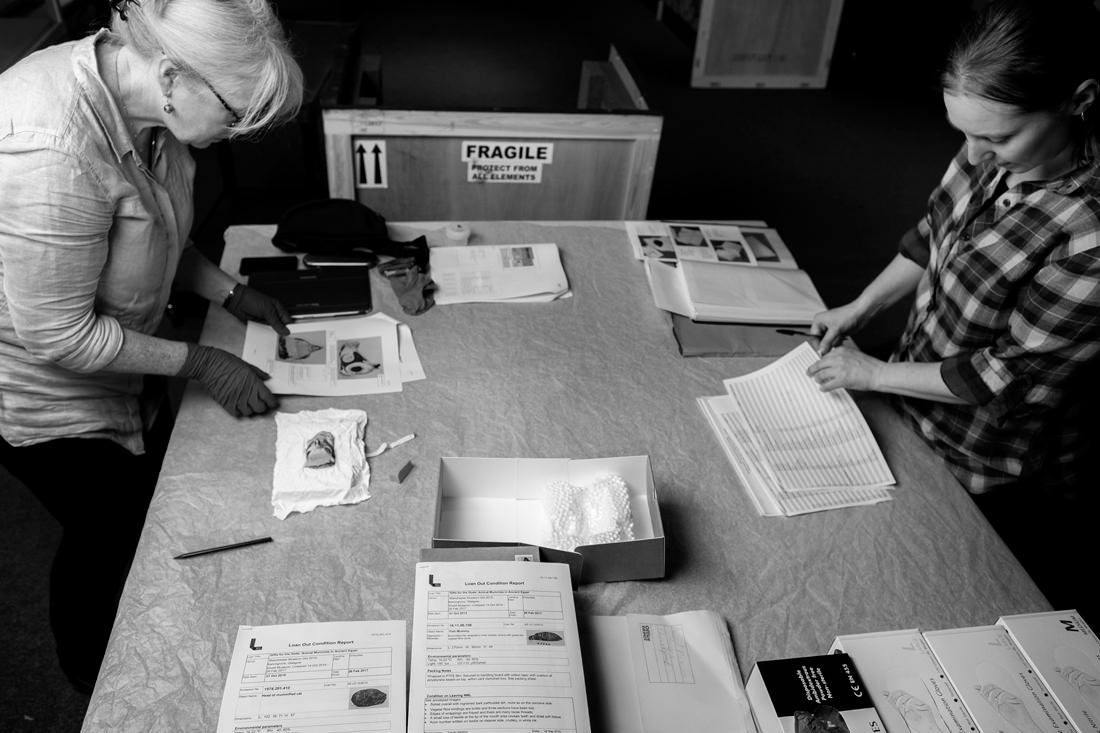 Tracey and Alex unpacking and inspecting objects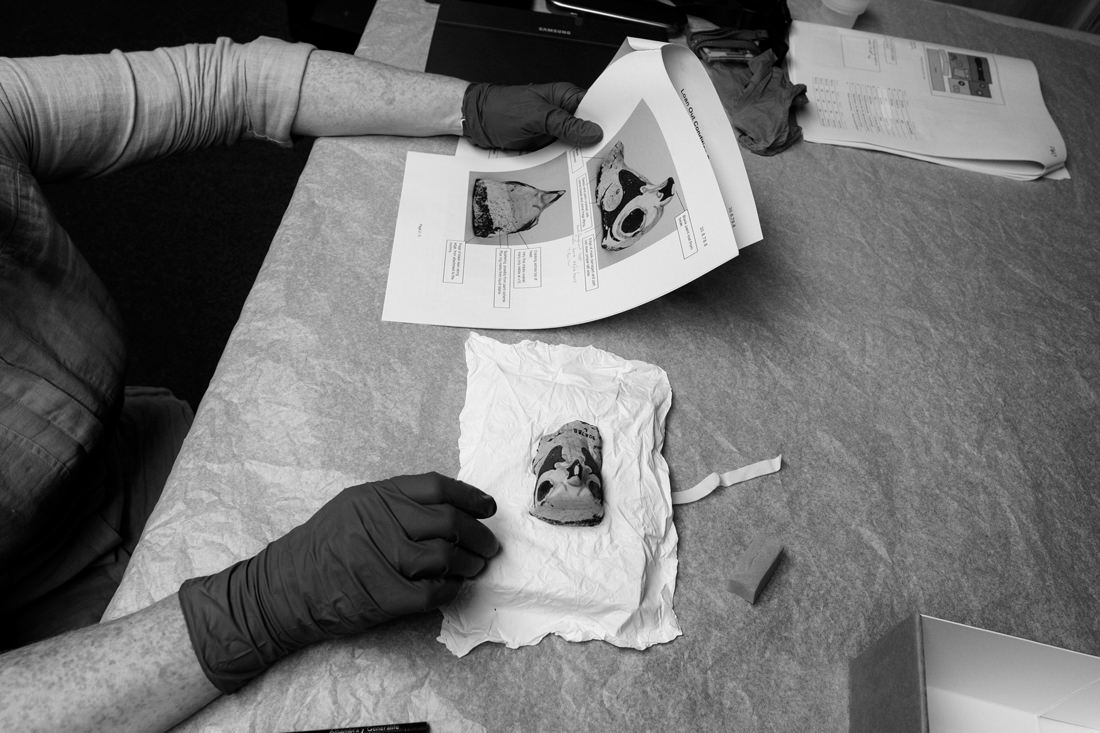 Tracey inspecting a falcon head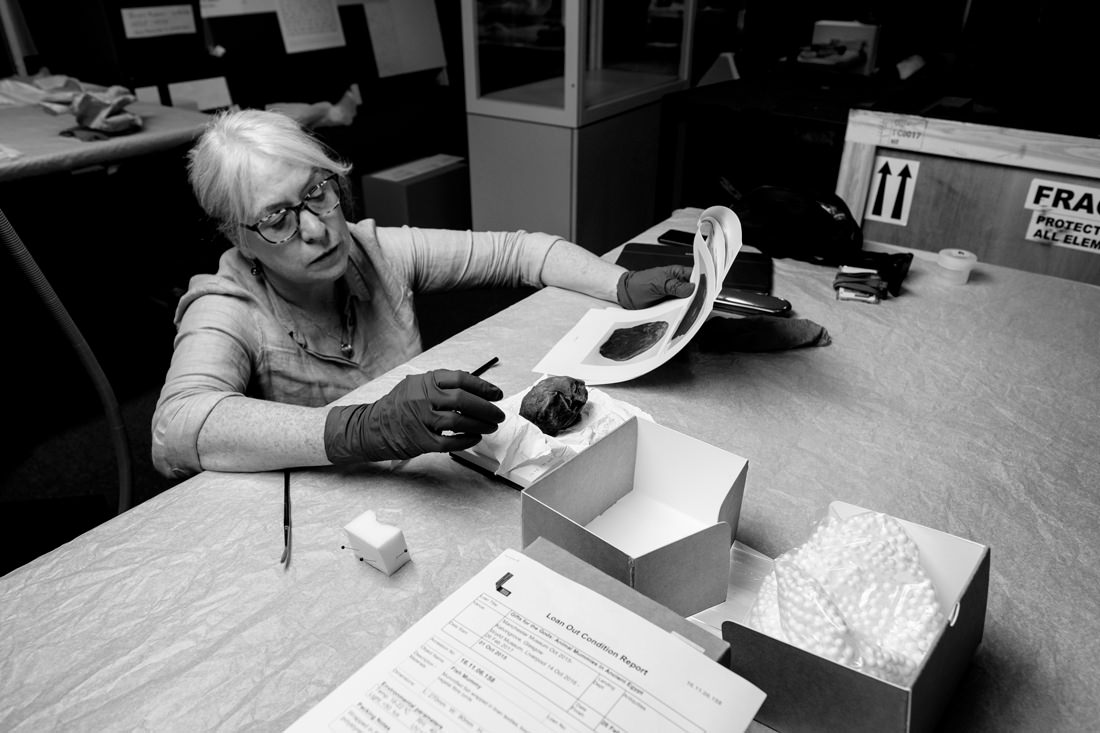 Tracey inspecting a mummified cat's head
Irit, Steve and Alex at an inspection table
Irit inspecting a wrapped ibis mummy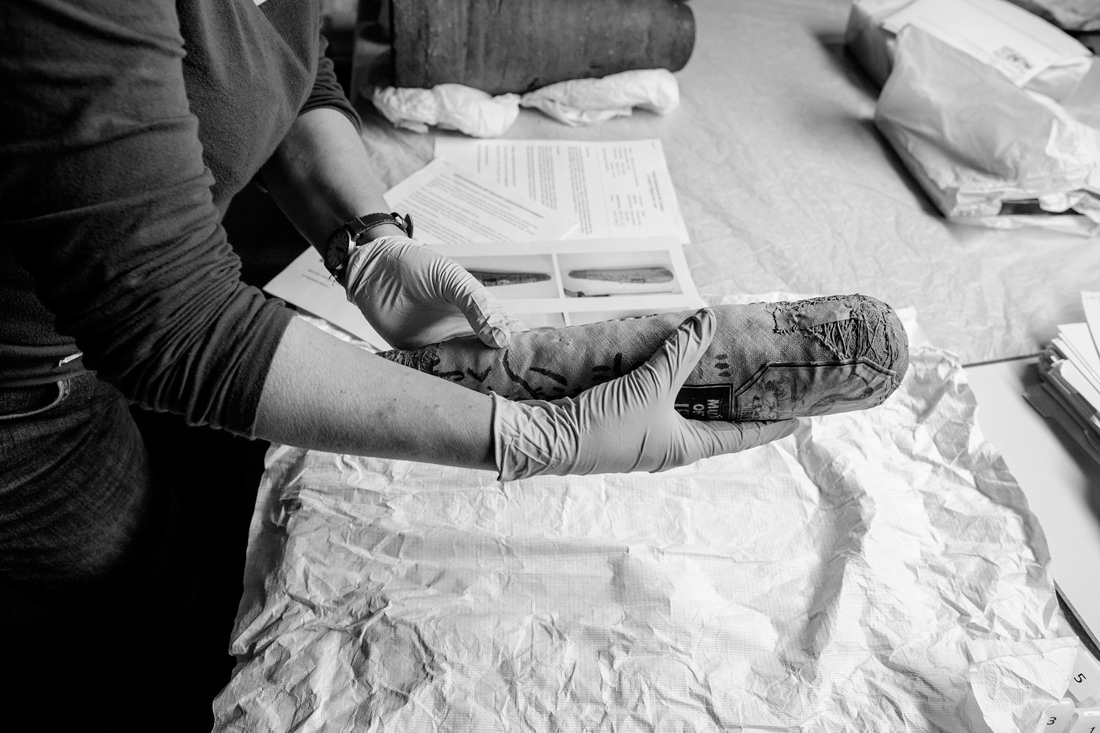 Every inch of every artefact is carefully checked
Steve mounting the ibis mummy in the display case
Curator Ashley Cooke talking to Alex and Tracey about ancient mummification practices
Enough DIY equipment to rival a B&Q store …
Bringing in The Gods and their Makers
David gets to work inspecting the painting
With special magnifying glasses and light, no paint stroke goes unchecked
There's so much to look at in this painting; we were poring over it for ages
How does the exhibition differ from its setup at Manchester?
The single most obvious difference between the exhibition at Manchester and Liverpool is the size of the exhibition space. Liverpool's is much bigger. (If you want to compare, have a look also at my post about the exhibition at Manchester.)
This meant that there were a few more oversized prints of wall reliefs from Egypt, and there's more space for visitors to move around. The World Museum, from my own personal experience, gets massively busy at weekends. I always make a point of getting to the museum as early as possible on a Saturday, so we can enjoy it before it gets too crowded (as you can see in the photos below, it was quite quiet when we were there, as it was early in the morning).
But, the extra space also meant the exhibition could add in a few more things for younger visitors. As well as the mummification smells, the microscope and the corner to write your message to a god (with the wonderful hieroglyphic embossing stamps) that were in Manchester, there was also:
a wall-mounted hieroglyph game
an 'Escape from the Mummy's Tomb' game on a computer terminal
dressing up (with a choice between Ancient Egyptian costumes and explorer costumes)
a large set of soft bricks with images from Egypt printed on them, which you can put together like a jigsaw
an enlarged photo of early Egyptologists (including John Garstang) with two of the faces cut out for visitors to replace with theirs
Interestingly, there's also a few objects that have had further analysis carried out since Manchester, meaning there could be more information about them available to visitors (such as the actual contents of some of the wrapped mummies).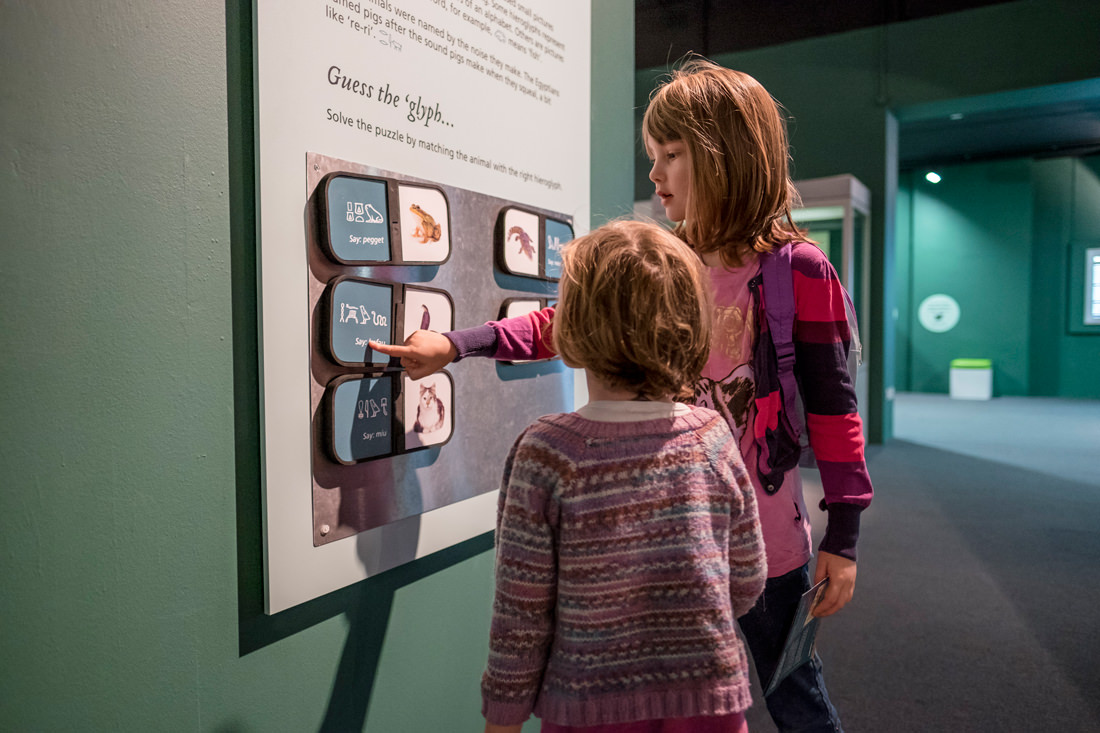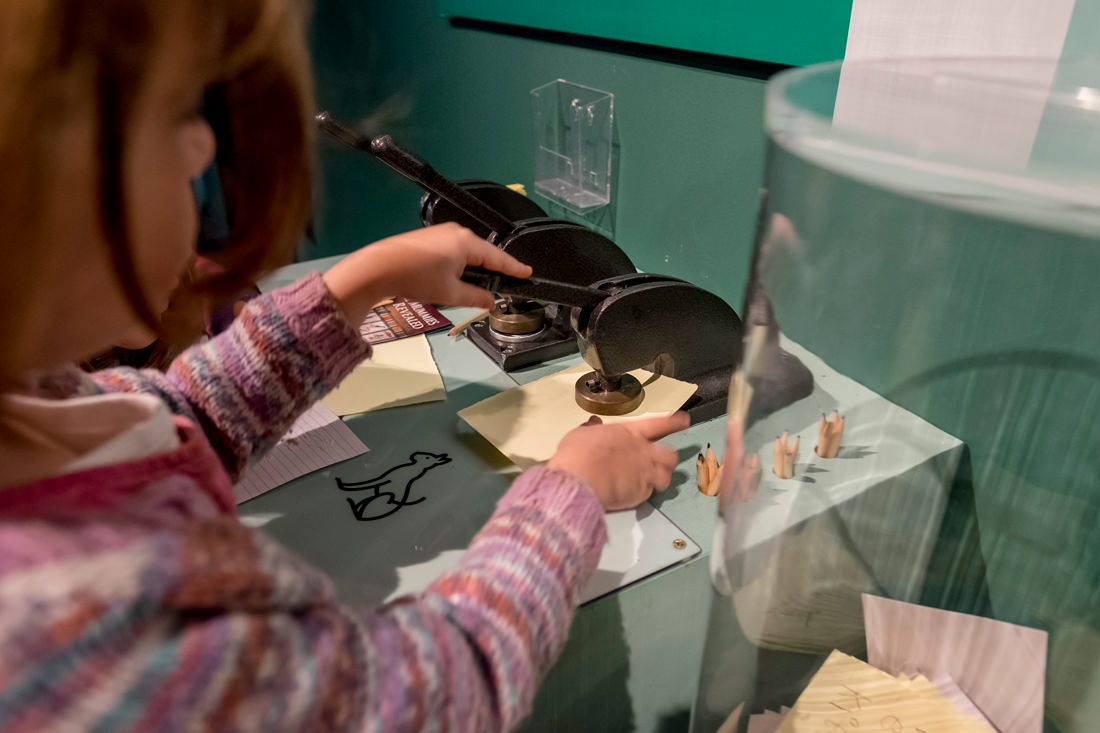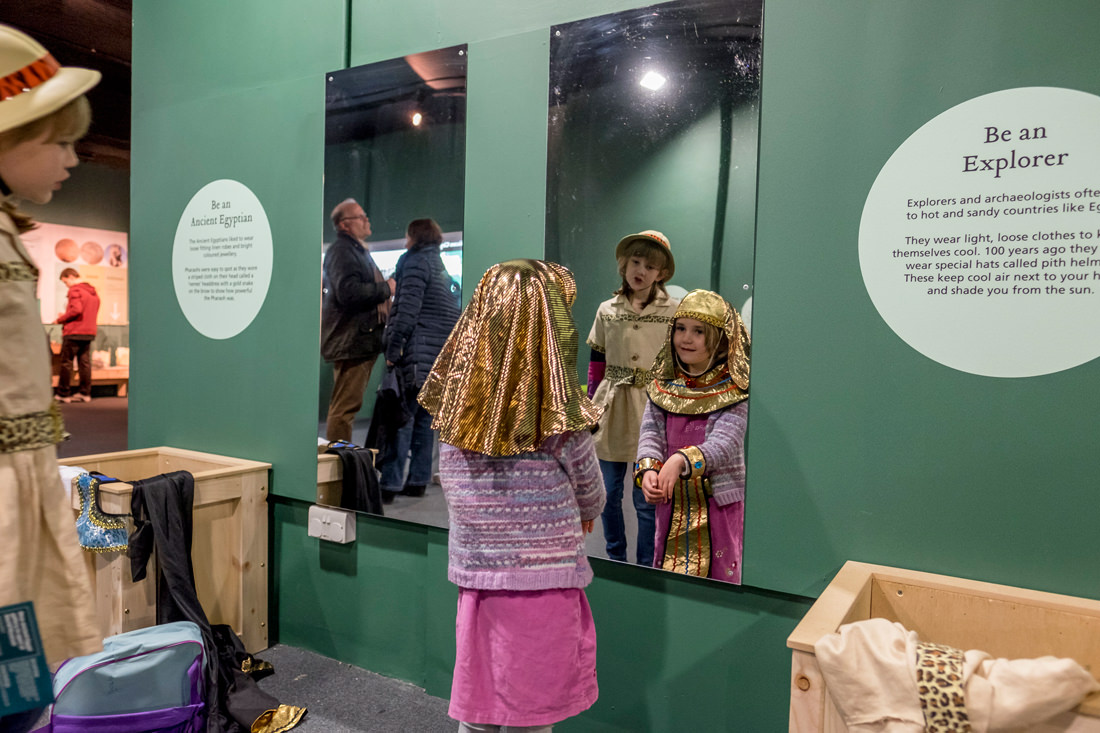 Gratuitous shots of Egyptian artefacts
And finally, for no other reason that we all love them so, here's some photos of a few of the items in the exhibition.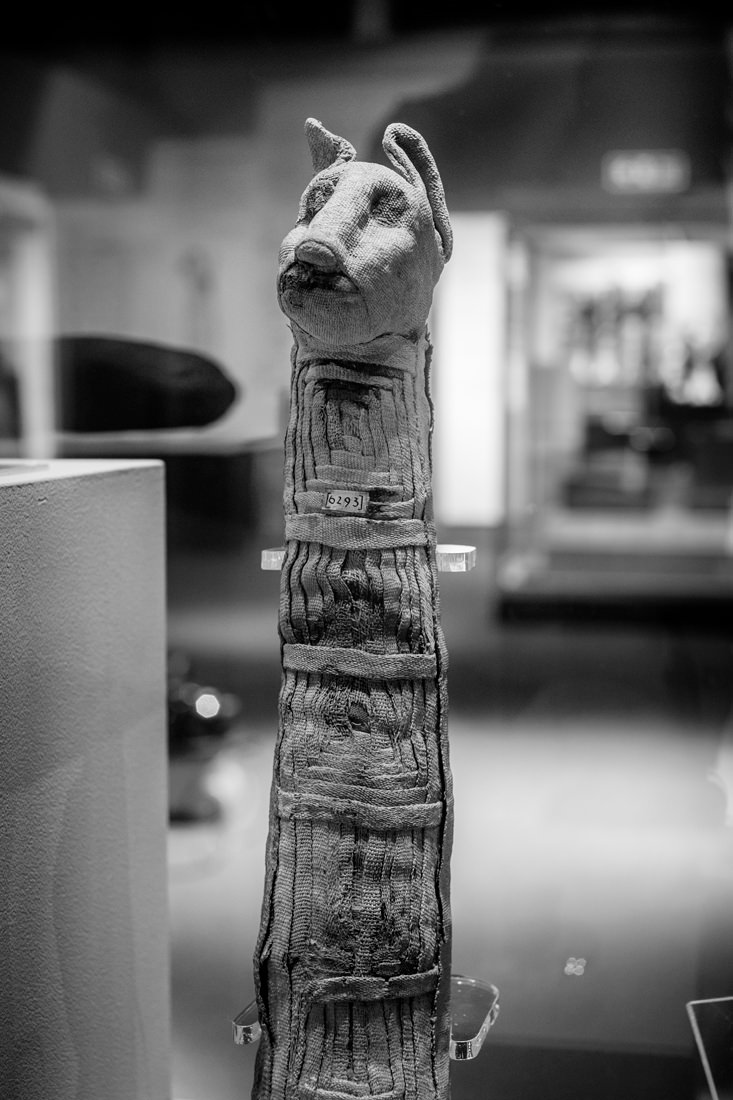 If you're visiting …
… a couple of points to remember:
be sure to look up when you first come into the exhibition, otherwise you'll miss the little guy in the photo below
beware the pop-up shop at the end of the exhibition … I won't tell you how much I spent, but it was far more than it should've been …
---
I would like to thank the following people working on the exhibition when I was photographing the behind-the-scenes shots. They were very friendly and happy to show me what they were doing:
David Crombie, senior conservator of paintings, National Museums Liverpool
Steve Newman, senior conservator of metals, National Museums Liverpool
Tracey Seddon, senior conservator of organics, National Museums Liverpool
Alex Blakeborough, organics conservation technician, National Museums Liverpool
Irit Narkiss, conservator, Manchester Museum
I would also very much like to thank curator Ashley Cooke for taking time out of his already hectic schedule to arrange for me to be able to come in and take these photos on two separate occasions, and for showing me around the exhibition.