A book should be a work of art. How much do we adore those 100-year-old tomes, almost too heavy to lift, packed with colour plates of temple wall inscriptions printed from Victorian-era watercolour paintings? Even the functional, academic books that might never see the light of day outside of a university library should be crafted with love and attention.
And I adore being a part of that process; of helping to create that piece of art.
I'm of the opinion that good typesetting shouldn't be noticed. Good book design, of course, should be. But the typesetting shouldn't draw attention to itself. If a book is poorly typeset, you will notice it; the last line of a paragraph stuck at the top of a new page, or a paragraph of text much looser or tighter than the others around it, draws and distracts the eye.
If you're looking for an able and enthusiastic typesetter, please drop me a line. I specialise in my lifelong passion: history and archaeology, with a particular focus on ancient Egypt; the subject I studied at university. I am, however, happy to consider other books; please do drop me a line at julia@tetisheri.co.uk and we'll have a chat.
What I can do for you
I take great pride in producing beautifully laid out pages. Each page is carefully crafted to look its best, including tinkering with tracking to get those paragraphs just right, and hunting down widows and orphans.
I will:
Sweep the whole document to ensure:
there are no double spaces
dashes are changed to en-hyphens, where necessary
BC/AD in dates are formatted as small capitals (though not here; WordPress doesn't 'do' small caps!)
I'm more than comfortable working with tables, footnotes, endnotes, glossaries and bibliographies.
I can also:
set up your InDesign files with paragraph, character and table styles
set up Word templates with paragraph styles for authors to use
liaise directly with authors and printers
set hieroglyphs either inline in InDesign or recreate the layout of an inscription using Adobe Illustrator
If you don't see what you're looking for here, please do ask.
In the toolbox
I work primarily with InDesign on Windows 10, ably assisted by Adobe Photoshop, Adobe Illustrator and Microsoft Office.
I have a number of specialist typefaces for setting ancient languages. I have Laser Hieroglyphics, a professional typeface containing all of the glyphs from Gardiner's sign-list (both left- and right-facing), as well as overstrikes and transliteration.
I also have fonts for demotic transliteration, Coptic and ancient Greek.
Testimonials
I worked with Julia Thorne on several archaeological monographs while I was Director of the Egypt Exploration Society. She always turned our publications round quickly and efficiently, and her work was of the very highest standard. Our books were not always the most straightforward either: we were asking Julia to deal not only with text, but academic notes and references of various kinds, tables, photographs, line drawings and other illustrations, all of which had often been prepared decades prior to publication and arrived in a variety forms including old carrier bags full of scraps of drawing film to 3.25" floppy disks. In one memorable case we were asked to produce a published volume out of a manuscript that had lain dormat for many years and have it ready for sale in a matter of weeks. This involved the digitization of dozens of drawings and photographs, integrating them into the text which was also being revised and edited along the way. Julia also had to liaise with the publisher, author and editors throughout and proved herself to be an able communicator and negotiator as well. Julia handled the whole process calmly and at speed, and the book - including printed text and images and CD of further images - was indeed on sale by the deadline. Despite all the complications associated with publishing work of this kind I never found a project that Julia couldn't handle and could not recommend her highly enough to anyone else with an academic book to produce.
About me
With over twenty years' experience working in admin-based jobs, I'm well-equipped to deal with the administrative side of typesetting and book production. I'm more than happy liaising with authors, with printers and with publishers, and I understand the pressures of deadlines and working co-operatively alongside others. My love for wordprocessing has progressed naturally over the years into one for typesetting.
I studied Egyptology to Masters level at the University of Liverpool, specialising in the language, which puts me in a strong position for typesetting books on the subject.
I'm a visually inspired person, with a love for photography as well as Egyptology and typesetting. I'm still involved with the University of Liverpool, helping to photograph the collection at the University's teaching museum, the Garstang Museum of Archaeology (see www.retrograde.photography).
Some fun facts about me:
like all other academics, I just love books; I have more than I have space for on my shelves. If I won the lottery, I'd buy a house big enough to have its own library (and a pool table. I've always wanted a pool table). I'd fill the library up with oversized, old, leather-bound books
the first thing I do when I buy a new book or magazine is open it up, stick my nose in and smell that wonderful new book smell
I can spot a double-space at twenty paces
Sample pages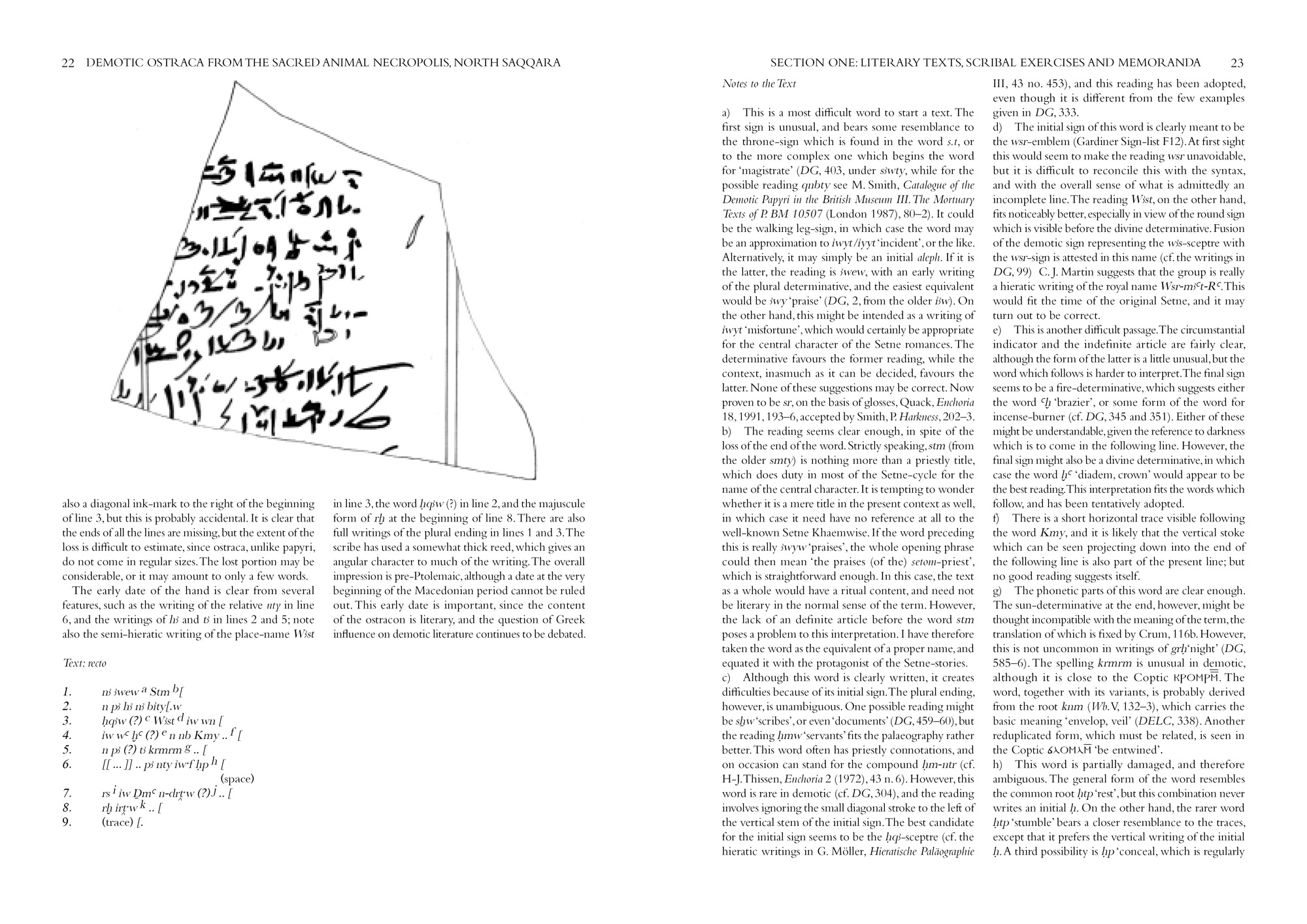 Portfolio