Some lovely little demons and gods on the floor – made from my photos – welcomed us into the building and guided us to the museum.
We'd got there about half an hour after the museum had opened for the evening. It was so busy, I could hardly get through the door into the exhibition room.
We squeezed in and started to have a look around.
It was bloody marvellous!
A temporary display wall divides the room and provides more exhibition space. It moves visitors around the room, showing coffin panels, amulets, pages from funerary texts and the like. All around the walls, accompanying the artefacts and information panels are my photos of the papyri.
There's a Lake of Fire at the end, with flames made with fans, lights, and pieces of fabric.
Around the second side of the room are lots of my photos, some more artefacts and a corner in which to weigh your heart against the feather of truth.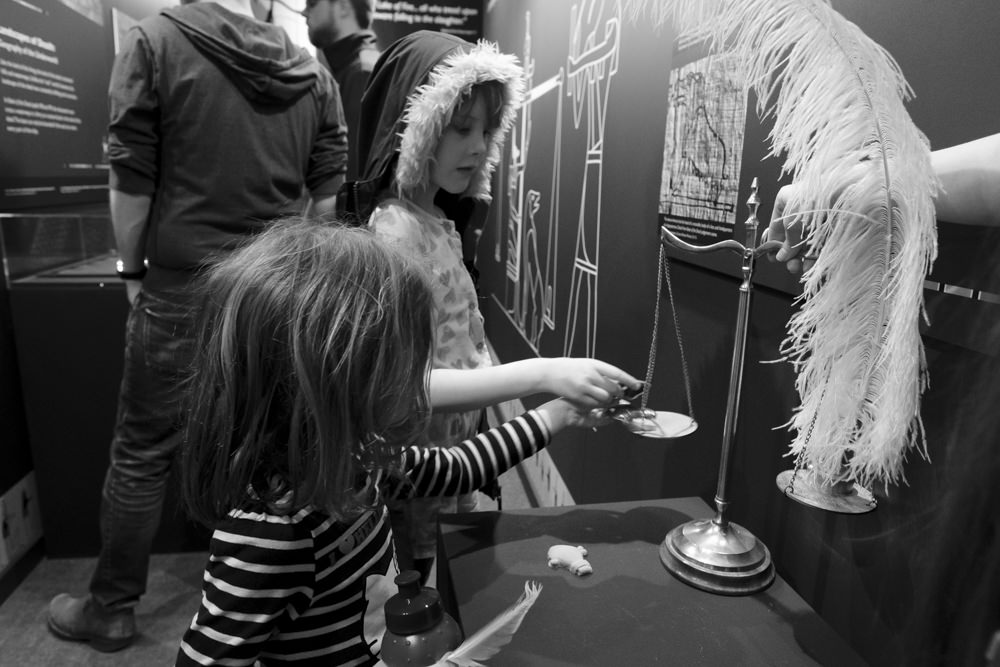 The children loved it, especially the Lake of Fire, the heart weighing station and the mummy amulet jigsaw. They also loved the new dressing-up corner in the main museum (as did some of the not-so-little-kids …)
I have to say that I was so excited to see the exhibition, and very impressed indeed. I was really happy to see my photos looking good (really happy!). But, they were just one part of a beautifully designed and produced exhibition. I must extend a big congratulations to Gina, to Roland, and to everyone who was involved in the hard work. Well done!
Did you enjoy this post? If so, please help spread the word by sharing on your favourite social network:
Unless otherwise stated, all content and photos on this site are © Julia Thorne. It's a common misconception that images online are free from copyright. Copyright laws still stand. Please feel free to share online, but only with a link back here or to the relevant social media account. If you'd like to use any of my photos, please email me at julia@tetisheri.co.uk. Thank you.